KICK START YOUR MODERN RECRUITMENT JOURNEY
People placed into full-time roles
of our candidates succeeded in their interviews
counties in Ireland & UK covered
PACKAGES TO SUIT EVERY BUSINESS
Turn your recruitment into a modern and affordable experience. Our pay per placement option can help you kickstart your recruitment journey with fees as low as 9% per placement based on salary.
Our head office is based in Blanchardstown, Ballycoolin, Dublin 15, but we recruit and place candidates in roles across the island of Ireland.
We have placed candidates in roles in every county in Ireland from Cork to Belfast, Mayo to Dublin, Derry to Waterford, One Recruitment has got you covered. Our digital marketing campaigns can target people by age, gender, location, interests ensuring we reach the right passive candidate.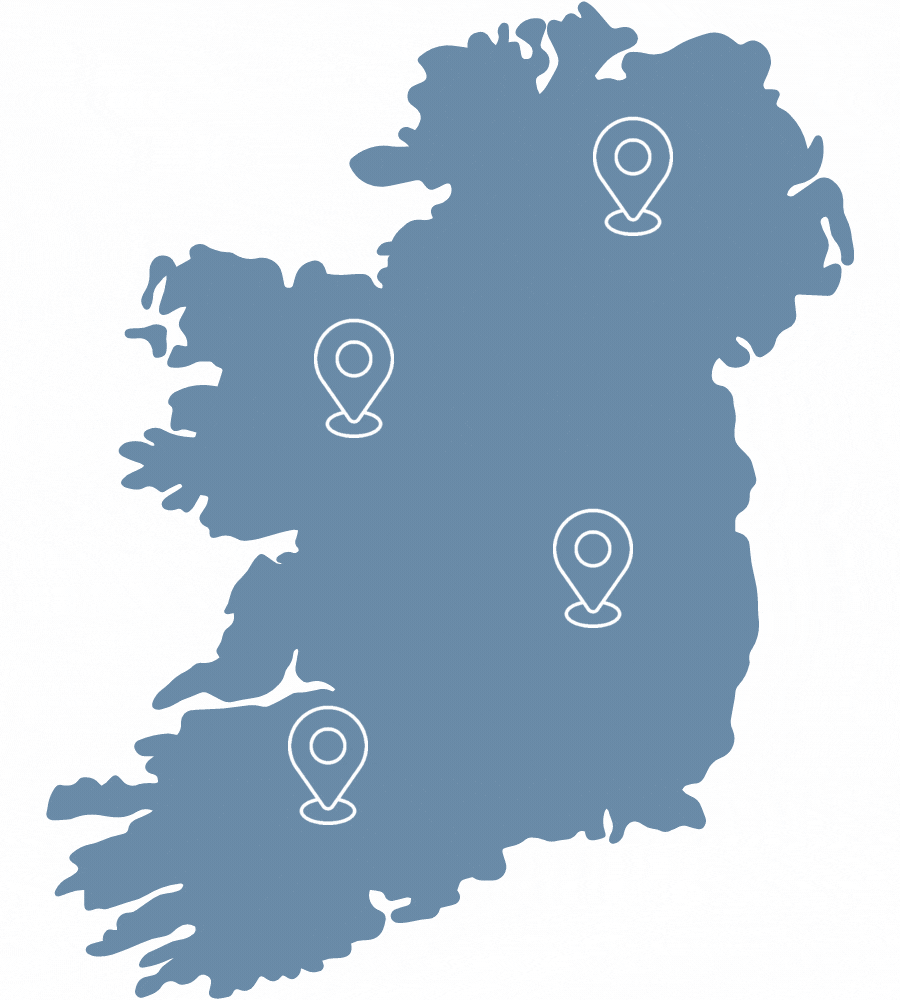 Due to the power of digital marketing, we are not limited to particular sectors. We work across a diverse range of industries, from tech to logistics, from administration to sales, from engineering to retail with our business model extensively tested across most industries.
Still not convinced? Hear directly from our customers.
"One Recruitment has been extremely successful in sourcing and recruiting for us to date. The candidates One Recruitment put forward are of such a high caliber that 9/10 of the candidates they have sent to us for an interview, we've hired."
We leverage the power of social media to attract talent. All of the marketing content in created by our team, reducing the costs for our customers.
We use modern ways of communicating with our candidates, such as social media messaging, video calling, voice notes, building a valuable relationship ensuring we achieve our core disciplines.
Our team focuses on finding the right people! We prioritize our time supporting the right candidates with a detailed screening process including pre-interview video calls.
Our team completes verification calls with candidates in advance of interviews, ensuring our customer's time is not wasted. Failure to verify results is a canceled interview.
FREQUENTLY ASKED QUESTIONS
73% of millennials found their last job through social media, with this stat growing within the Gen Z generation.
Millennials and Gen-Z's have an intrinsic relationship with technology and are the first generations to be digital natives. Now, these two are the two largest job seeker groups and are highly engaged on social media. Naturally, these demographics have a much higher conversion rate for social recruiting than any other group.
Research on social recruitment has proven that it reduces the overall cost of recruitment by up to 25%.
Passive candidates make up about 70%-75% of the workforce. These candidates are not actively looking for a new opportunity but will consider a job switch if the role meets their career goals. Through social recruiting, businesses can engage with this candidate pool and forge a relationship that can potentially turn into a hire.
Don't waste any more time and make the first move. Let the recruiters do the recruiting for you.